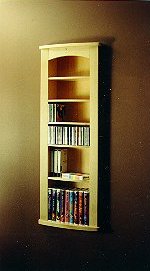 they can be installed
IN ANY HOME
old or new



Our recessed wall cabinets add new space to all areas of your home, almost anywhere a freestanding cabinet would not fit, or would interfere with traffic circulation and furniture arrangement.

Cabinets recess into the walls, so don't take up any floor space, yet provide lots of room for storage and display.

Hallways, kitchen, bath, bedrooms, home office & den, SPACE WORKS cabinets are easy to install in any home,

old or new.

While our cabinets have been designed with the private residence in mind, the wide variety of sizes and styles means they can also be used in condominium / apartment developments, corporate offices and retail store displays.